Here we go with things I am currently loving now.
1. Crazy Love by Francis Chan
Our church just wrapped up a study of this book. I really can't say much other than read it. I promise you will love it. Or it will make you uncomfortable because it makes you aware of certain things in your life. But uncomfortable is good, promise.
2. The 5000 Year Leap
Our financial advisor recommended this book to us. It is about what principals the US was really formed on and how far we have fallen from this. That we have moved from a land of freedom to a land that is giving away our rights out of fear. I have to admit, a little slow going compared to CIA novels, but very, very interesting.
3. Italian Sweet Cream creamer
I totally drink coffee for the creamer. I even drink decafe because I don't drink coffee for the caffeine. This one is super yummy. I probably should invent some type of desert with it because I love it that much.
4. The Olympics
I love the Olympics. Back when we didn't watch tv, we made a small exception for some of the Olympics. My hands down favorite summer event is gymnastics.
Here is a picture of the men's gymnastics team.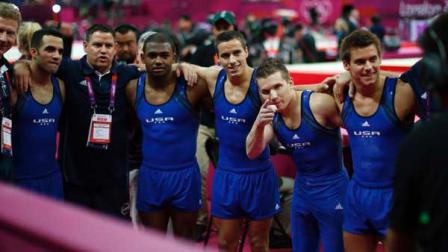 Aren't they just a cute group of young men? Lots of things in the Olympics impress me, but watching these young men perform in so many different ways is amazing. My favorite is the floor routine where they go running as fast as they can and throw themselves up in the air and do flips. I can probably still somersault if I try really hard. Also, I have a special spot in my heart for the young man on the right of the coach. They did an interview with him over the weekend, and his mom and dad are white. I have to admit that every time I see an older black man I always think of Moyz, and it was neat to see his parents and hear their story. He sounds like an exceptional young man who has overcome a lot.
Chris was equally amazed at their abilities, and probably just a tad envious.
5. School Supplies
I think I have mentioned before how much I love school supplies. I don't know what it is, but when they come into stores I just love it. I will buy 10 packages of 24 count crayons. I do this for several reasons, 1. they sell them for under 50 cents a pack, 2. we go through a lot. But I also buy notebooks, pencils and pens, and every time I am in a store I drift through the section in case I missed something the first time around. Maybe it reminds me of new beginnings from when I was young and excited about the next grade?
Of course, now my kids see all the cool notebooks and want to buy the ones with fancy covers instead of the 15 cent plain ones. I usually let them pick out one or two fancy ones and then the rest are plain. But then I let them decorate the plain ones with permanent markers. And if there are any left when they go 75% off after school starts we pick up more.
Is anybody else in shock at how much a quality school bag costs? We make our kids have theirs for several years. And I won't allow them to pick out one of the cheap ones with a picture of a transformer or something equally dumb because they are usually made out of the cheapest material, and then the next year they decide to out grow whatever they were interested in the last.
Owen's bag was originally
seventy
dollars at ShopKo. Now, that store is generally more expensive than any other one unless you get stuff on sale. We ended up getting his back pack for $20 bucks. It was originally on sale for $30 but then we had a coupon as well. Who in their right mind would spend $70 on a school bag for a kindergartner?
I don't spend $70 on a purse for myself.
That's it for this Tuesday.