Can't seem to get my blogging game together this week. Yesterday we spent two hours at the vet, one just waiting to be seen. I had the three littles only and no help because Ava and Owen are at my parents. And of course the office is small and my children are loud so you can see where that is all heading... Turns out there was a very sick dog that was basically dying. So then I felt like a terrible person for complaining in my head about the long wait
Today we have Truitt's two year check up and shots, and then back to the vet
again
because his ear taping needs to be changed differently but his skin was sensitive and so we had to wait a day.
He's 30 pounds at 11 weeks. He could have eaten the 8 week baby black lab that we saw.
We got the plumbing moved in the basement, and the water finally went away, and we've done a great job of keeping the babies upstairs so not even one scenario in which the littles ended up in the big dirt hole getting filthy, which in my humble opinion is a huge parenting accomplishment.
And I totally cheated on my "not buying anything until school starts" and ordered the fabric that I talked about in an earlier post. And it's just not going to work. None of them. The third fabric the yellow tone was really, really strange. And then the other two I didn't actually order enough to match patterns, and now the blue is sold out. But I don't think I can bring myself to return the two because they are so strange and awesome. I am just going to have to find a reason to use them..
Keeping Keeping
Gone
Maybe something like this Anthropologie quilt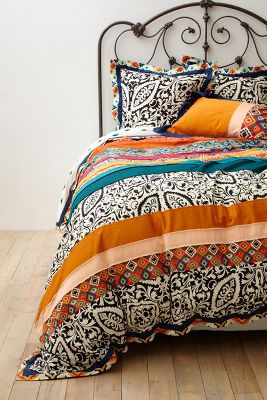 We'll see, I have lots and lots of spare time right now so I'll just quick whip something up!