I have come across some crazy, awesome things for fall. None of which, unfortunately, I will be doing. A combo of no time, and laziness, plus 5 kids sort of doesn't leave time for intricate crafts. Still, these are pretty stinkin' cool, and I would love to. Some day.
Like these pumpkins for example. Can you even believe it? How long would it take to do the first ones in the picture below? Knowing my luck I would just about get it all done and then one side would cave in and I would cry for a very long time.
Directions for doing any or all of these can be found
here
. Martha Stewart- of course.
`
Or how about these acorn candies? Don't they just look yummy? I think my hands are already getting arthritis from trying to manipulate items so small. But I bet they are delicious. My kids would have them eaten up so soon I can't even think about it. I would want to display them in a little glass case so people could see how artsy-fartsy I actually was!
Go
here
for the recipe. My new issue of Martha Stewart has another recipe for these that I tried in vain to find on her site, but no dice. Her's are even better looking, and way more time consuming then these! (What, that surprises you?!)
A very fun and very simple way to show off some beauty. Burlap, leaves and a frame. Almost everyone has these items in their house buried somewhere. I tried to source it for you, but my computer gave a malware warning and so I couldn't get you to the original site without the fear of harming my computer.
I could probably actually do this at my crazy house. Here is the tutorial on how to make this fun garland at
A Beautiful Mess
And don't you just love that blog name?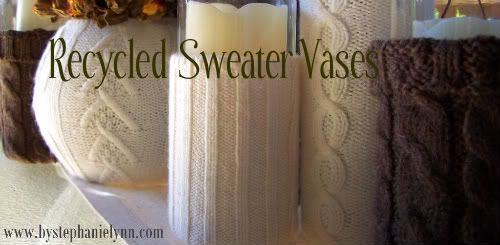 Here is a great use for those old 80's sweaters or any that are stained beyond repair. A cute idea that I haven't seen yet. Go
here
for more info.
And then we have
DIY sugar letters
. I am thinking that this is a craft for someone with much too much time on their hands. But regardless of that, I think it is a pretty adorable idea. How much fun would it be to have a tea party with your little girl and her friends and their names were spelled out in sugar cubes they could eat?
My kids want to do every single one of the ideas above, but especially the pumpkins. Can you imagine a 9, 5, two 2 year olds, and a 1 year old carving pumpkins? Me neither. Probably we will give them a sharpie marker (dangerous enough) and have them draw all over a couple. Maybe they will draw in a chevron pattern like this one.
These
are actually
decoupaged.
Un-freakin' believable. If only I was so imaginative.
People Rock.