Ran with the kidlets to Ikea on Monday, I am so proud of myself. And they have free breakfasts on Monday until 11, score! I didn't even know about it, but am now permanently putting that on my Monday list of things-to-do-with the kidlets. Our school district doesn't have class on Mondays so all kids are home with me. Every.single.Monday. If Ikea wasn't an hour away from my house I bet we would be there every single Monday for the free breakfast. Ikea regulars. They would all know our names and the kitchen staff would run away when they saw the Nelson's coming to eat all of their food! They gave every kid plus me a free breakfast, 6 in one fell swoop!
While there I was checking out the bench I chatted about that morning. And after seeing it I decided that it really wasn't worth the $69 and I am going to try and build one myself. I will keep you posted on that. Seeing as I am going hunting this weekend for the first time in my life it probably won't be made any time soon. But I kind of need to do it quick, lest I want Truitt to keep trying to escape and fall on his head.
Anyway, while at Ikea I saw this botanical chart
Okay, so we all know my obsessions with these. This puppy was huge, and only $20. I wanted so badly to buy it, but after staring at it for around 10 minutes and racking my brain like crazy for a spot to put it, even asking Ava and Owen if they could think of a spot for it, sadly, I left the store without it.
Then I came home and I had gotten a West Elm catalog in the mail and so I hopped online to browse their bedding, and when I couldn't find anything exciting, hopped over to Zgallerie where I found this comforter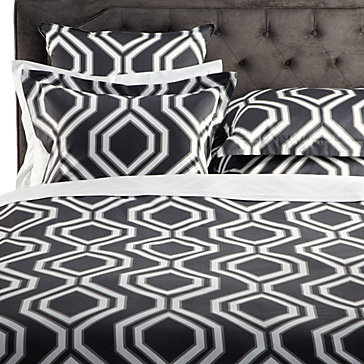 Normally it isn't something that I would quickly gravitate to, but I have had a thing for geometric shapes lately. But it's $169 and I change my mind too frequently on colors to spend that kind of money on a duvet cover, even if I really love its graphic nature, and the dark color. I think I am fixated on dark, moody rooms. To go along with my dark reading of Russian Literature. I swear I am not depressed.
Back at the West Elm site I saw this light fixture
I think it would match beautifully with the above bedspread and botanical print. Maybe I should just show this picture to Chris and tell him for a mere $338 plus S&H, it could all be ours. He would probably tell me I am insane and why am I so fixated on black things?
To round out the room I would also get this dresser
I love the beat up nature of this, but not crazy about the bottom, it looks like it could easily tip if it was on carpet or something uneven. And at almost $1100, this is a big no way. I bet someone could build this much cheaper though. I think the light wood would be a nice play on the dark of the other stuff though.
I am contemplating painting my bedroom dark. Remember this swatch from the living room?
I ended up picking the bottom starred color for the hallway and living room, and if the kitchen is black, then I am looking at the second to last shade for our bedroom. Nice and cozy and mysterious. Love. Would Chris like it? Probably not so much, but I am trying to get him in the mode of "Jess' home is her hobby". We'll see how far he'll let me take it.

I have also started to paint the hallway and the living room the gray that I picked. and I have to admit I am not super crazy with how it is turning out. The biggest problem is our doors are that ugly, stained orangey color that so many people have in their homes and next to the gray they clash horribly. I know it will look way better once I start doing the trim but it is hard to imagine at this point in time. Especially since I am trying to paint during the day with three babies, which I do not recommend, but I don't know how else I will get it done. And the fact that I will need two coats on every wall. Trim will make me cry because I will have to degloss then prime and then paint. Maybe I can convince some crazy person to take my entire family for a weekend away and I will stay here, crank the music and paint until the fumes make me go crazy!

I probably shouldn't even be mentioning the fact that I am a little unhappy with how it looks since Chris told me the other day that he read my blog. What? He probably has looked at my blog all of 5 times since I have been doing it way back from when it was about our adoption. And then he just happens to pop on this week and take a gander. Good thing I didn't list what I was getting him for Christmas. Of course, that would be due to the fact that I have no idea since it's only October. Although now would be a good time to mention to him that yes, Christmas does fall on December 25th again this year, so you better get crackin' honey. (It somehow manages to sneak up on him every year and I get gifts like a train conductor hat...) Now he'll see all of my mad ideas and try to stop me before I just do them first without telling him. Which has been my standard practice.

Oh, and the Peppermint Mochas are back at McDonalds. I die. Especially since I just started a Biggest Loser Competition with 8 other lady friends starting tomorrow. But I can get in a large today.